Stoney Creek Stillwater jacket Tuatara Forest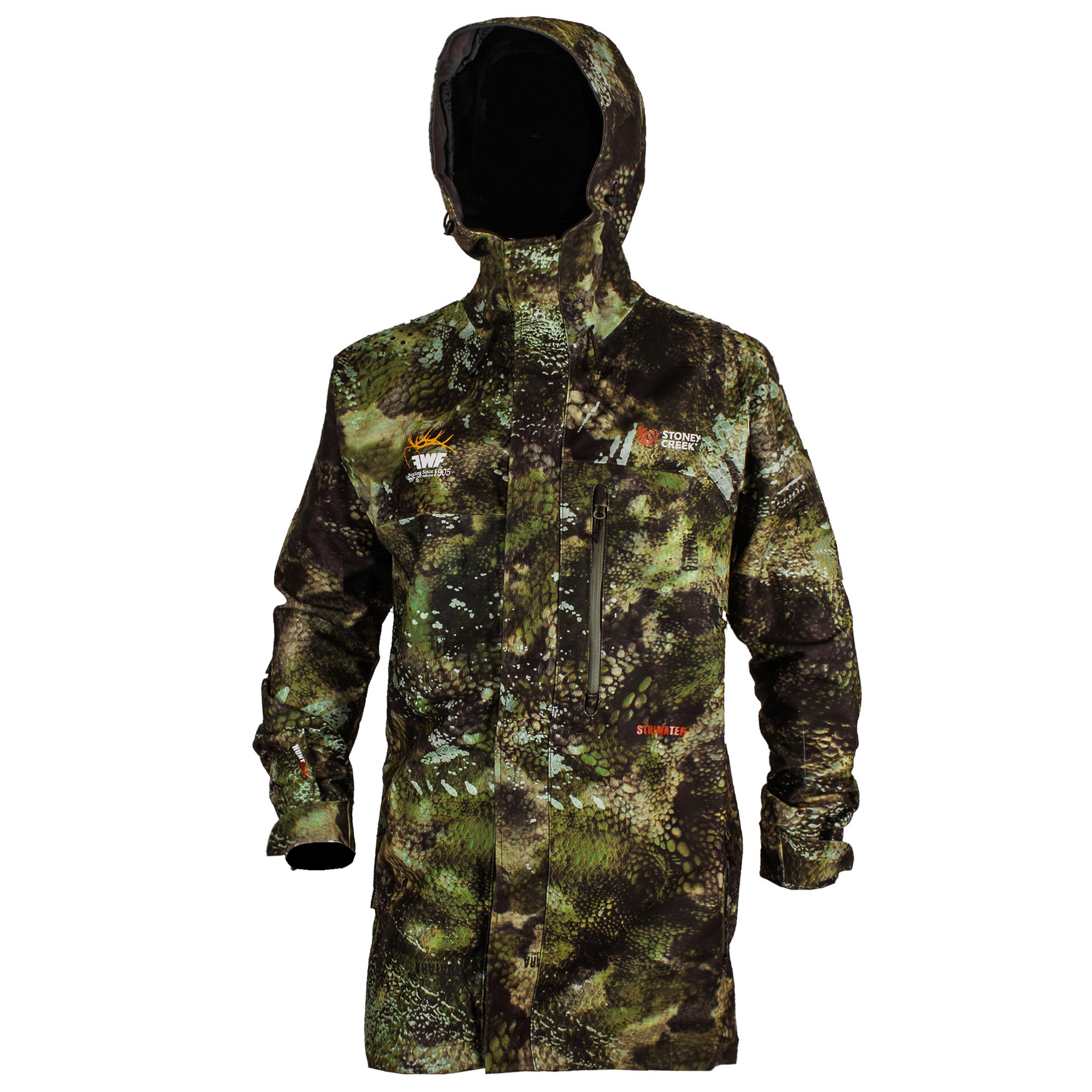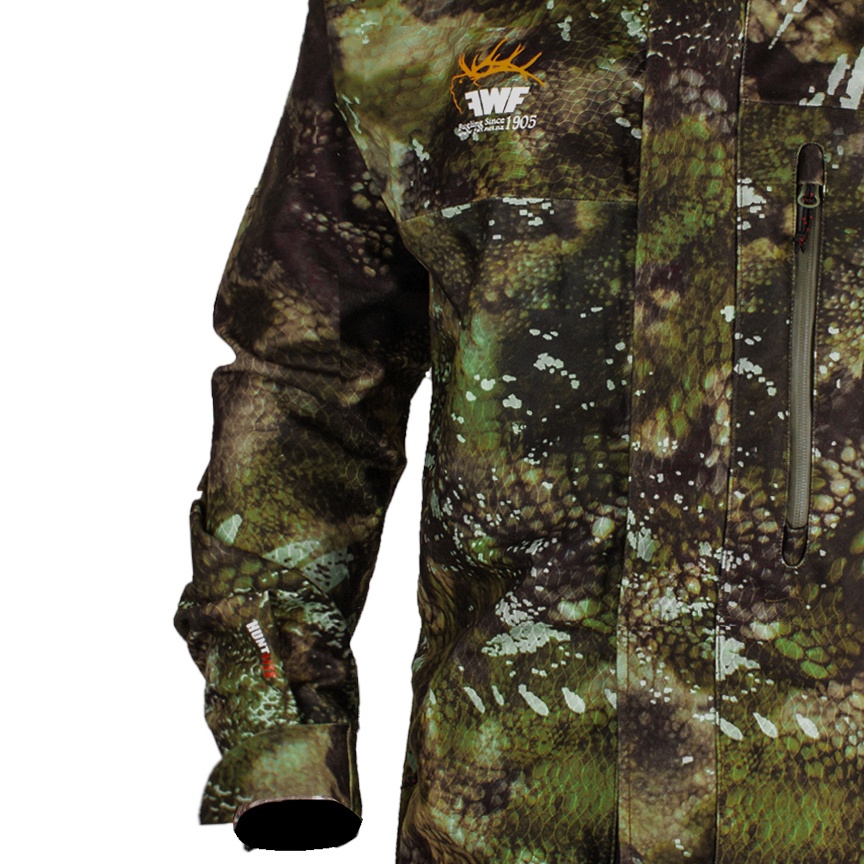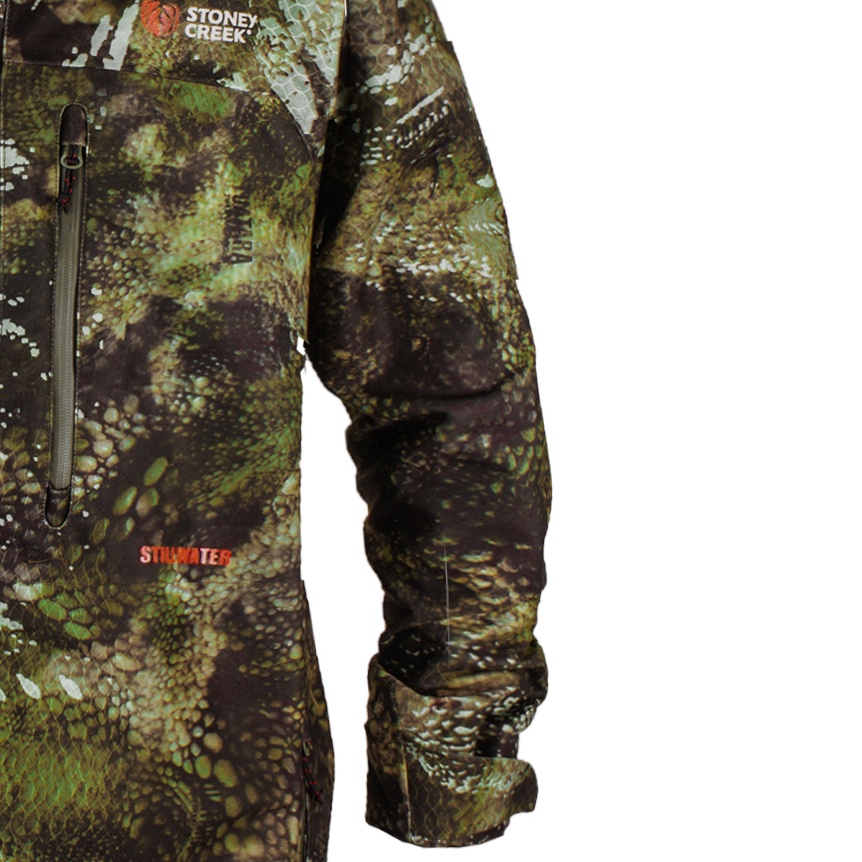 PURPOSE BUILT FEATURES

- Alpine twin adjustment hood with volume reducer for optimal fit and protection that won't restrict your vision
- Convenient silicone dotted shoulder grips to keep your pack or rifle secured
- Lowered hand warmer pockets with YKK aqua zips which won't get in the way of your hip belt
- Extra-long tail to sit on when glassing
- Advanced 3-panel construction reducees weight and enhances weatherproofness
- Large chest pocket with YKK aqua zip gives you weatherproof storage and access to your essential optics and electronics
- Articulated elbows provide enhanced comfort and maximum range of movement
- Internal YKK zipped pocket to keep electronics secure and protected from the elements 
- Double storm flap and gutter to give extra weather protection to main YKK zip

GIVING YOU THE EDGE
Designed and tested in Fiordland - New Zealand (which can receive up to 8,000mm of annual rainfall). the Stillwater Jacket is purpose built to withstand some of the toughest and wettest conditions on the planet.

Ultimate Rain Protection
From its 100°/o waterproof technical 3-layer Huntlite Fabric (10,000mm tested), own coating. 3 panel construction (to reduce seams and weight). to its full length design 5 that actively sheds water to run olf below the knee. everything about the Stillwater Jacket has been crafted to provide ultimate defence against the elements. helping to keep you dryer. lighter. on-the-move and most importantly... hunting with an edge.

HUNTLITE FABRIC

OUTER LAYER:
- 750 brushed tricot 17
- 80/20 DWR coated to actively repel water, blood and dirt
- Silent brushed outer face to reduce noise

HYDROPHILIC MEMBRANE: LINING:
- 100% Waterproof (10,00omm tested) 1. 200 poly tricot mesh lining
- 100% Windproof 2. Ciba' Antimicrobial treated
- Breathable

LINING:
- 200 poly tricot mesh lining
- Ciba Antimicrobial treated

TUATARA® CAMO
All camouflage is designed to make you hard to see. But that's just the table stakes in the world of hunting.

The elite hunter is searching for far more. More than just an edge, more than getting close. It's the ability to have total control over a situation. So you can challenge every aspect of a hunt, take time, reflect, respect and choose. Tuatara® Camo puts you in a zone like no other and takes you closer to your prey than ever before. Closer than you ever dared. Become one with the land. Take your time and choose your next move. Raise the bar, challenge old traditions, embrace your primal instincts and rewrite every definition of the word 'stealth'.

Tuatara Camo. Hunting as nature intended

TECHNICAL BY NATURE
Tuatara® Camo takes hunting to the next level. We've redefined what it means to hunt undetected with four key technical design elements that will confuse the animal eye and enable you to become one with your hunting domain.