Browning X-Bolt Hell's Canyon Long Range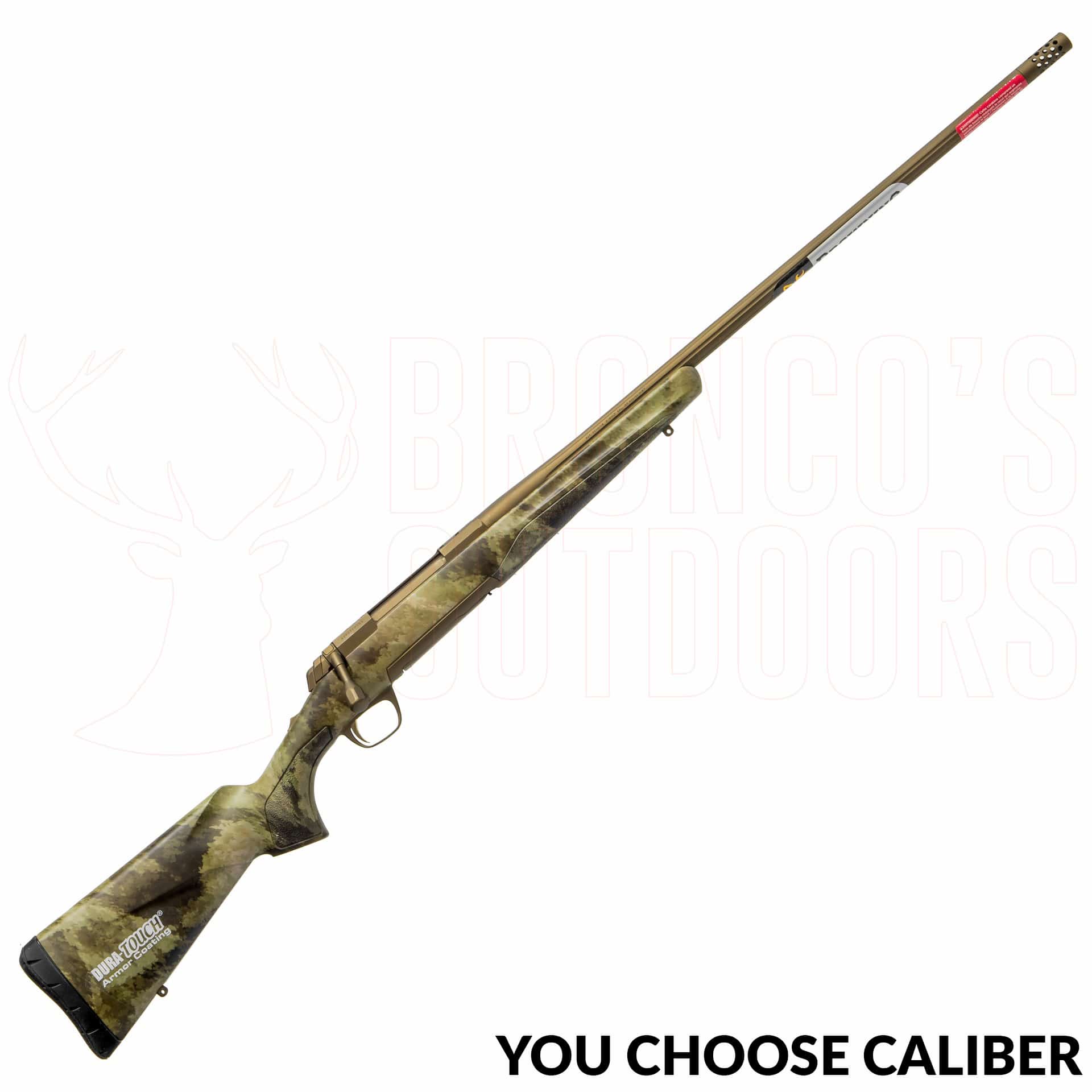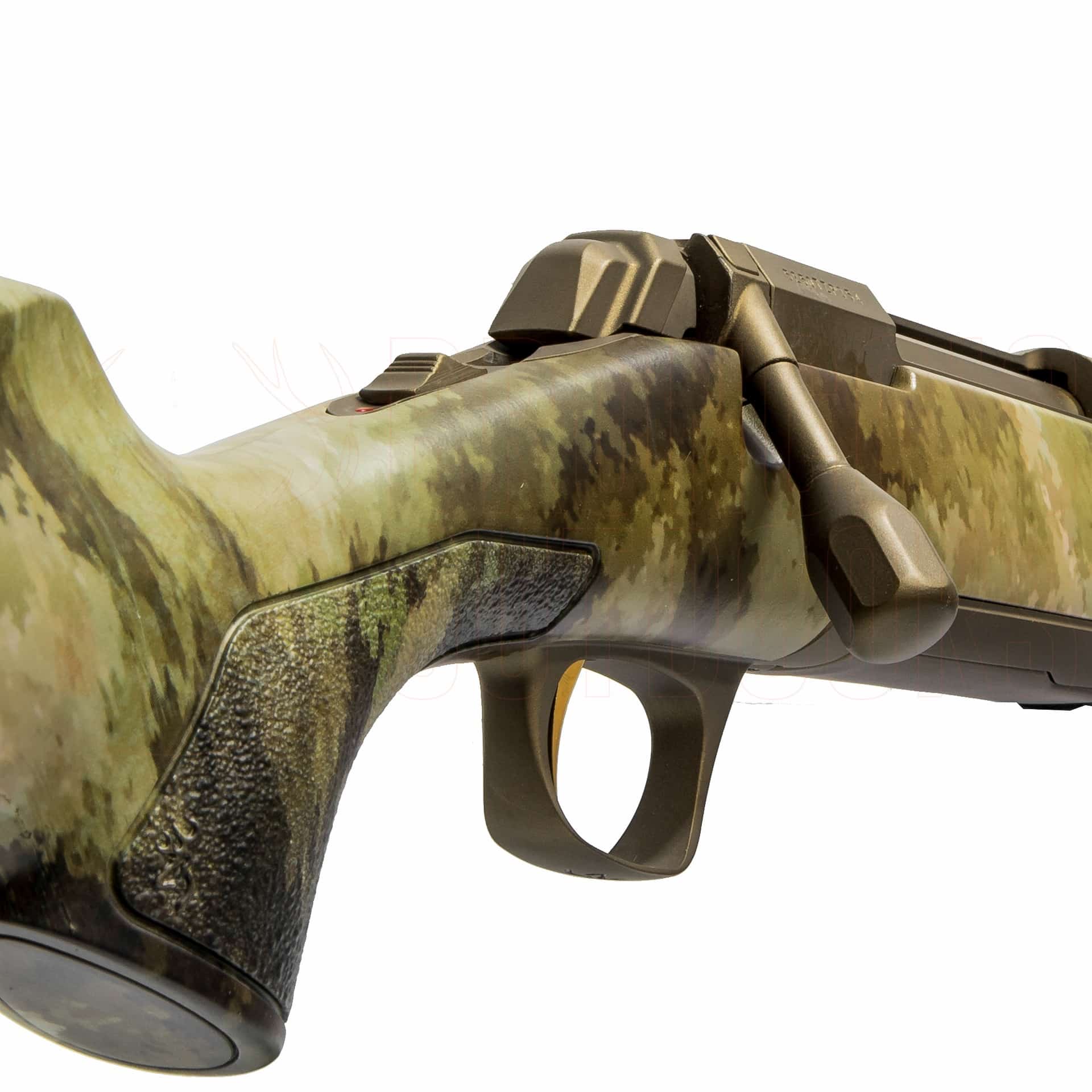 Fluted heavy sporter contour barrel, A-TACS AU (Arid/Urban) camouflage, Cerakote Burnt Bronze finish, threaded muzzle brake, detachable rotary magazine, short throw bolt, adjustable trigger, bolt-action hunting rifle.

For the hunter that doesn't shoot less than a 20 round box of ammo each year. Do you shoot all year long and love the sound of lead hitting steel at over a thousand yards away? Do you put in hours behind the trigger, practicing the fundamentals of marksmanship and learning to read the wind? Do you like the option to choose between established and proven cartridges as well the newest non-belted magnums that offer superior ballistic coefficients and velocities in a standard length action? This is the rifle for you.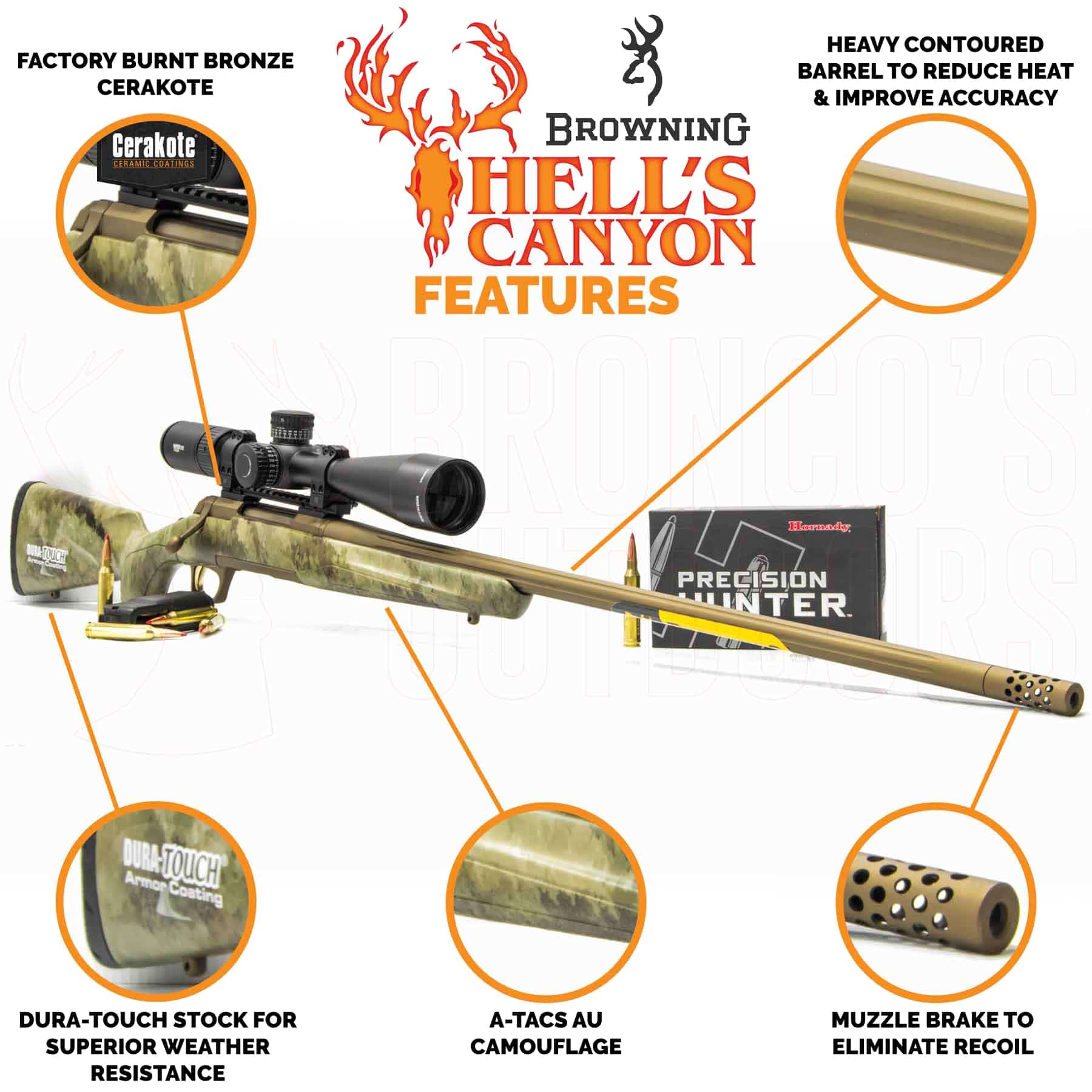 Built on the most popular X-Bolt rifle ever, the Hell's Canyon Speed, the Hell's Canyon Long Range takes the same winning features and adds a heavy sporter contour barrel for increased long range accuracy. You still get all the features that made the X-Bolt Hell's Canyon Speed a best-selling and game-changing rifle:

- Exclusive A-TACS AU camouflage - an advanced camouflage comprised of micro and macro patterns to add concealment in depth from varying distances of perception.

- Burnt Bronze Cerakote - originally developed as an automotive component finish to provide enhanced cooling, Cerakote is a superior non-reflective and corrosion-resistant coating in high demand for custom grade firearms. The receiver, barrel, and exposed surface are of the bolt are all coated for an extremely appealing look that enhances function and durability.

- Fluted barrel - not a new concept, yet far from being a standard feature on hunting rifles, barrel fluting reduces the weight of the barrel, increases the exposed surface area of the barrel (reducing barrel heating), and increasing the rigidity of the barrel.
- Threaded muzzle brake/Suppressor ready - a time-tested feature to tame the recoil of magnum calibers and all but eliminate the kick of more mild calibers, allowing shooters to observe downrange impacts. Included with the rifle is a thread protector so you can remove the muzzle brake without risking damage to the threads. The threaded barrel makes it that much easier to attach a sound suppressor, an increasingly popular safety trend in big game hunting.

Add to this all the custom grade features that come standard on the Browning X-Bolt:
- Adjustable Feather Trigger
- Free floated barrel, hand chambered with a target crown
- A short-throw bolt with 60° bolt lift
- Inflex Recoil Pad
- Bolt unlock button
- Detachable rotary magazine with inline cartridge feed 

Barrel Length 26"
Overall Length 46 3/4"
Length of Pull 13 5/8"
Drop at Comb 11/16"
Drop at Heel 1/2"
Weight 7 lbs 8 oz
Barrel Finish Burnt Bronze Cerakote
Stock Finish A-TACS AU
Receiver Finish Burnt Bronze Cerakote
Chamber Finish Polished
Barrel Material Steel
Barrel Contour Heavy Sporter
Stock Material Composite
Recoil Pad Inflex 1, Small
Pistol Grip Cap None
Checkering Textured Grip Panels
Sling Swivel Studs Matte Blued
Receiver Material Steel
Trigger Finish Gold Plated
Bolt Slide Finish High Gloss
Magazine Type Detachable
Trigger Material Alloy
Trigger Guard Material Alloy
Trigger Guard Engraving Buck Mark in Gold
Floor Plate Material Composite
Drilled and Tapped for Scope Yes

PLEASE NOTE SOME NEWER MODELS NOW DONT COME WITH DURA TOUCH