Howa 1500 .308 Stainless 20" Black Starter Kit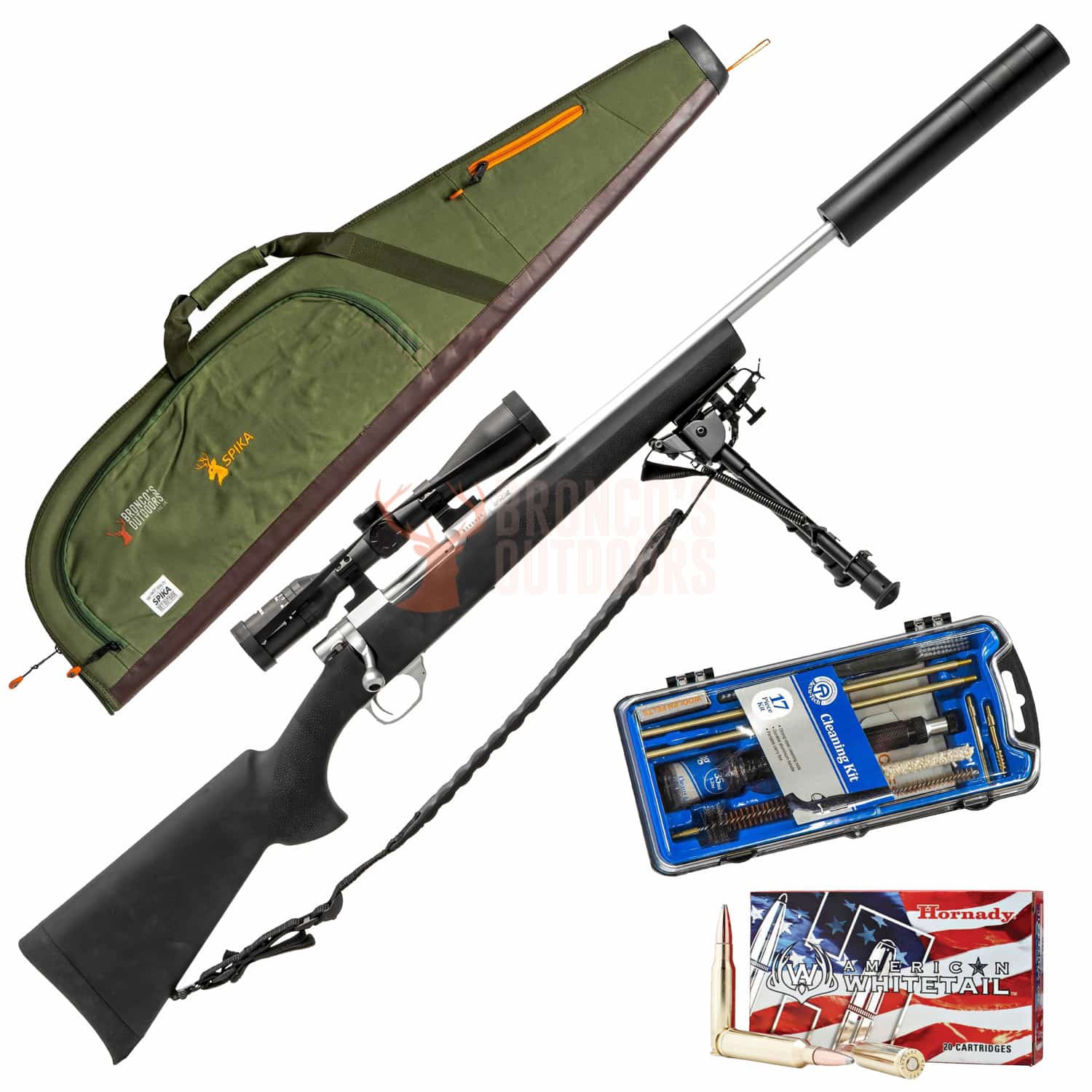 The starter kit is the kit that has everything you need to get started!
You can't go wrong with a rifle that gaurentees 1 MOA and a scope that has a lifetime warranty!

This package includes:
Howa 1500 Stainless Threaded Bare RRP $999
Nikko Stirling Zero-lok Rings RRP $69.99
Nikko Stirling Panamax 3-9x40 RRP $249.99 
Ghost Silencer RRP $349
Stealth Fixed Swivel Bi-Pod RRP $59.99
Accu-Tech Cleaning kit RRP $49.99
Manitoba Ultralite Rifle sling Med RRP $59.99
20 Rounds of Hornady Whitetail ammunition RRP $54.99
Spika Canvas Gun Bag RRP $79.99

A RRP of $1,972.93 all for $1599!

ALSO AVAILABLE IN:
.243 | 6.5 Creedmoor |  .270 |  7mm-08  |  .308 | MINI 7.62x39

.223 CERAKOTED MINI ACTIONS AVAILABLE IN:
SNIPER GREEN | SNIPER GERY | VORTEX BRONZE

Threaded 1/2-20
This Howa rifle is the flagship of the Howa line. This rifle has all the features that make Howa great, including a Hogue Overmolded Stock which is soft rubber over an aluminum skeleton, providing a positive grip in all weather conditions, reduced shooting fatigue and high resistance to most gun solvents. Barrels are free floated for maximum accuracy.

The Howa is based on a early model Sako action, features a one piece forged bolt, has easy strip out firing pin assembly for ease of cleaning, flat bottom action for better bedding, and integral recoil lug to transfer trunion pull. 2 stage trigger is nice to use, and 3 postion safety allows the bolt to be opened with the safety applied

Howa 1500 barreled action
Hogue pillar-bedded Overmolded stock & recoil pad
Forged, one-piece bolt w/ two locking lugs
Two-stage HACT trigger
Three-position safety
Sling swivel studs.

See our entire range of Howas here!