Bore Tech black powder solvent 16oz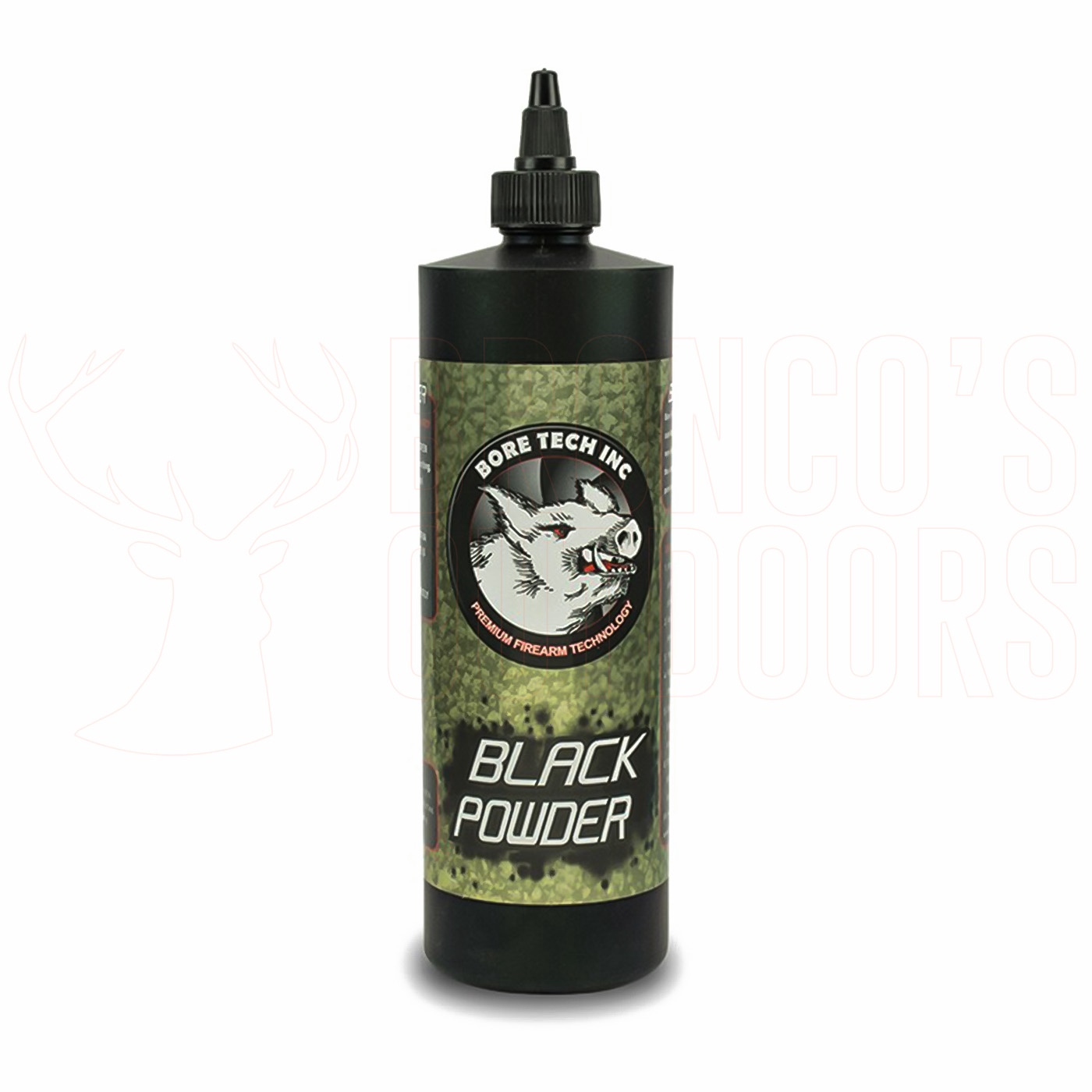 Bore Tech Black Powder Cleaner is a specially formulated, surfactant based cleaner designed for today's muzzle loaders and inline black powder rifles. The proprietary formulation is a combination of ingredients that can simultaneously cut through heavy layers of powder residue, plastic, bullet lube and corrosive salts that accumulate during shooting.

Bore Tech Black Powder Cleaner is an innovative aqueous based cleaner that has proven to surpass the rigorous demands of the modern day muzzle loader/inline rifle black powder shooter. The cutting edge formulation contains high performance surfactants, naturally derived solvents and rust inhibitors that were strategically selected to offer unparalleled performance.

BLACK POWDER CLEANER QUICKLY REMOVES
- POWDER RESIDUE
- BULLET LUBE
- SABOT FOULING
- CORROSIVE RESIDUE

BLACK POWDER CLEANER IS 100%
- BARREL SAFE
- NON HAZARDOUS
- AMMONIA FREE
- ODOR FREE
- BIODEGRADABLE
- USER FRIENDLY

Muzzleloader/inline cleaning has finally transcended to the 21st century.

Bore Tech Black Powder Cleaner Use Instructions

UNLOAD FIREARM
1) Wet 3 to 4 Bore Tech X Count patches with Black Powder Cleaner and individually push through bore to remove loose fouling. Only push patches through the bore in ONE direction.
2) Next, make 10 to 15 passes with a tight fitting Bore Tech brush saturated with Black Powder Cleaner.
3) Then repeat Step 1 and let Black Powder Cleaner soak for 5 to 10 minutes. For badly fouled rifles, extended soak times may be needed.
4) Finally, push dry patches through the bore until they come out clean.
5) Repeat above steps if necessary.
6) Before storing firearm, dampen a patch with Black Powder Cleaner and push through bore. This will protect against rust/corrosion for up to 2 weeks under normal storage conditions.
7) For extended storage or in adverse conditions apply Bore Tech Friction Guard XP Gun Oil.
8) Before using firearm, always run a dry patch through the bore. This will remove any residue and ensure against obstructions.