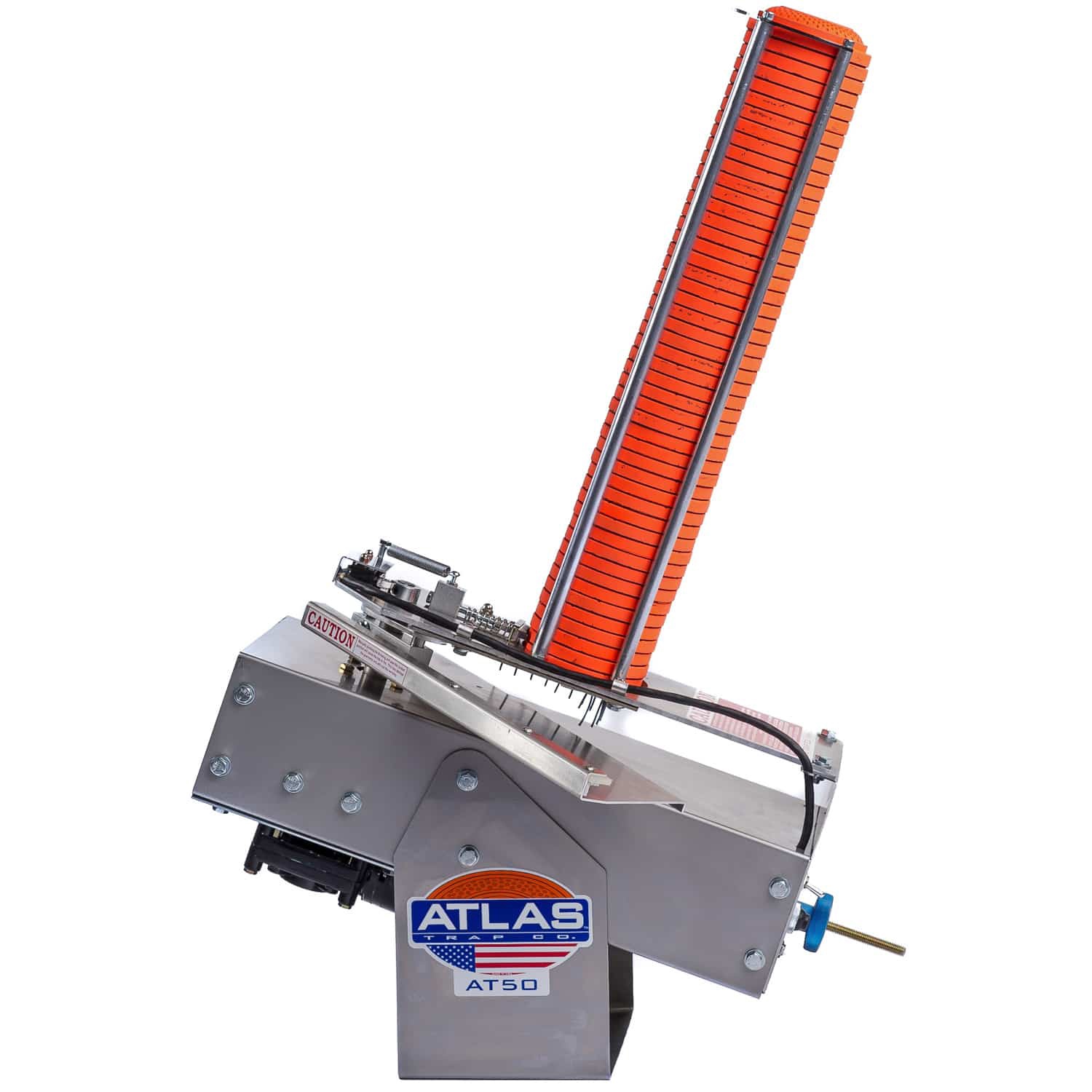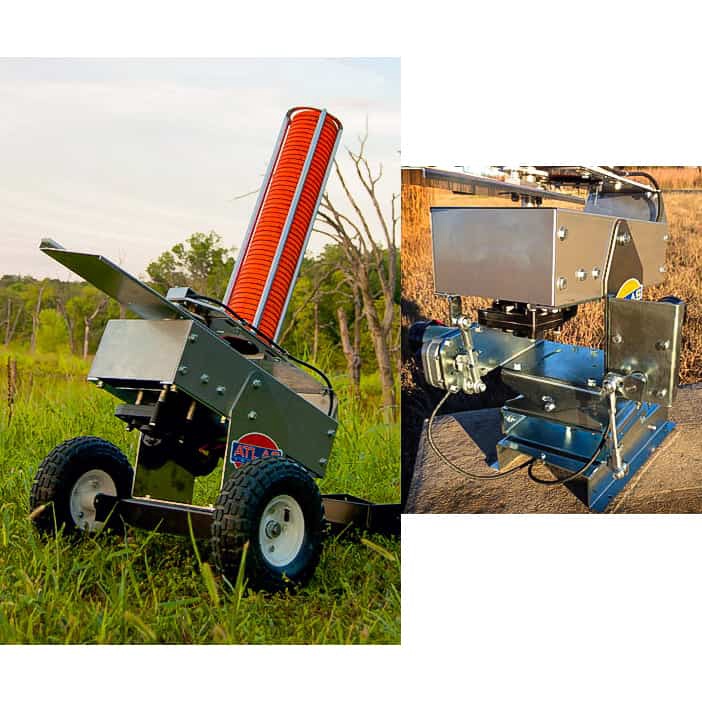 Wireless thrower remote can be found here
Carts can be found here

Specs
- Heavy Duty Stainless Steel Construction
- DuraClutch™ (Lifetime Warranty)
- Direct Drive (No Chain or Sprockets)
- Aluminum Throwing Arm with Polyurethane Throwing Strip
- 50 Target Capacity
- Angle Adjustment, Both Axis
- Fully Automatic
- Instant Release
- 25' Push Button Release Cord
- On/Off Toggle Switch
- Firing Button on Trap
- 5 Year Limited Warranty
- Lifetime Warranty on DuraClutch and Electrical System
- Cycle Time: .6 Second
- Powered by 12-Volt Battery
- Weight: 50 lbs
- Dimensions: 32" l x 30" w x 37" h
- Throwing distance: Adjustable from 30-70 yards
- MADE IN USA

(Tray not included)

DESCRIPTION
When you deploy the AT-50 clay pigeon thrower, you can hone your shooting skills endlessly. That means you'll outshine your challengers at the shoot. And in season, you'll take home more game more cleanly. Here's how:

With the AT-50's rapid-fire technology, you can have four to five birds in the air at once. That allows you an infinite opportunity to improve your speed and accuracy of fire.

Speed, accuracy, and focus isn't just about a machine throwing faster.

Target capacity is crucial. Loading and reloading a trap takes up valuable time. You've carved that time out for practice. Not for reloading targets. So maximize every minute. The 50-target capacity means you'll spend less time putting clays into the trap, and more time shooting them out of the air.

The on-board firing button and 25-foot push-button release cord affords infinite options for throwing — no matter the terrain, no matter the lighting, or vegetation, or wind. It's as prepared to adapt to any environment as you are.

You can test your full range of shooting skills because it boasts a 2-axis angle adjustment. It throws birds from as near as 30 yards to as far as 75 yards. Hit that if you can! And you will, with the increased efficiency of practice you'll get. You'll actually take advantage of all these adjustments, and often since the adjustments are easy and take only seconds to change.

With its made-in-USA, heavy-duty stainless steel and aluminum construction, the AT-50 is as solid as a truck. Plus, its direct drive technology means there are no chains or sprockets as in inferior designs. And so your attention and focus are fixed only on the birds, not on greasing a chain, or fixing a fouled assembly, or fixing anything on the trap. And when you're free to focus, the firearm becomes an extension of your body, so you shoot at your best.

And like a truck, the warranty says everything on paper that the made-in-USA quality says in cold metal. The lifetime warranty on the DuraClutch™ and the electrical system is unapologetic — no ifs, ands, or buts. That's peace of mind.

Powered by a 12-volt battery, and weighing only 50 lbs, you might manhandle this little trap down farm roads and into your favorite shooting spots with or without an ATV. (No pressure. You're not trying to prove anything, right? But if you occasionally like to enjoy a crisp clear morning of shooting without the bother and the exhaust fumes of an ATV, why not?) The AT-50 is one of the lightest rock-solid, heavy-duty traps you can own.

With mobility, focus, and peace of mind you get from the dependable, efficient AT-50 trap, you'll spend your time in the field shooting, improving, and teaching the next generation.

With this impressive little clay pigeon thrower, shooting just became fun again.