Howa 1500 SILVER HB No Thread .308 24" + MDT Oryx Chassis Olive + Magazine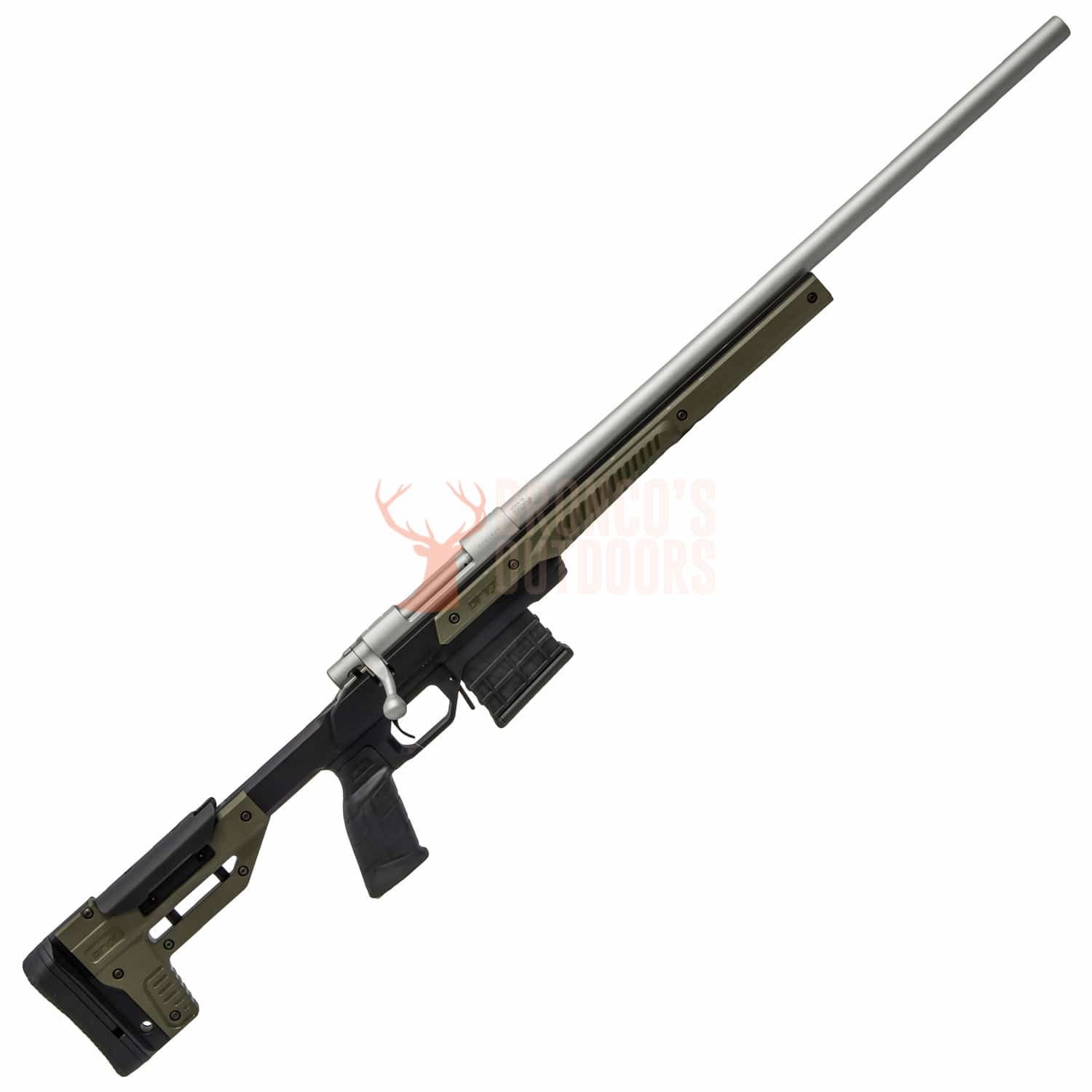 THE RIFLE
- .308 24" Heavy Barrel
- Two-stage HACT trigger
- Three-position safety 

The Howa is based on a early model Sako action, features a one piece forged bolt, has easy strip out firing pin assembly for ease of cleaning, flat bottom action for better bedding, and integral recoil lug to transfer trunion pull. 2 stage trigger is nice to use, and 3 postion safety allows the bolt to be opened with the safety applied

MDT ORYX FEATURES
- FITS ANY HOWA SHORT ACTION
- Full monolithic aluminum chassis
- Adjustable LOP - 13.25"-15"
- Adjustable comb height
- Two-stage HACT trigger
- Color options include FDE, Gray, & OD Green

Created for the most demanding shooters, the Howa Oryx Chassis by MDT provides complete ergonomic adjustment without compromising on design or functionality. Featuring a full monolithic aluminum chassis with an adjustable length of pull and adjustable comb height, the ergonomic fine-tuning on the Howa Oryx Chassis Rifle enables the perfect fit to the shooter
magazine may vary

What is Cerakote?
Cerakote is a Polymer-Ceramic coating that can be applied to metals, plastics, polymers and wood. The unique formulation used for Cerakote ceramic coating enhances a number of physical performance properties including abrasion/wear resistance, corrosion resistance, chemical resistance, impact strength, and hardness.

Cerakote can protect steel 50 times better than competitive firearm coatings.  Cerakote salt spray testing is performed using a steel substrate, to simulate real world application, instead of using aluminum or Parkerizing

Cerakote offers some distinct advantages over other finishes. First, the material has a good degree of lubricity, acting as a lubricant once the finish has been applied. A lot of users have found they need to use far less lubricant (if any) once their gun has been coated. Compared to other lubricants, Cerakote attracts far less in terms of dirt, dust and other particles, keeping the gun cleaner and ensuring better operation.