Savage A22 .22WMR + Vortex Crossfire 3-9x40 BDC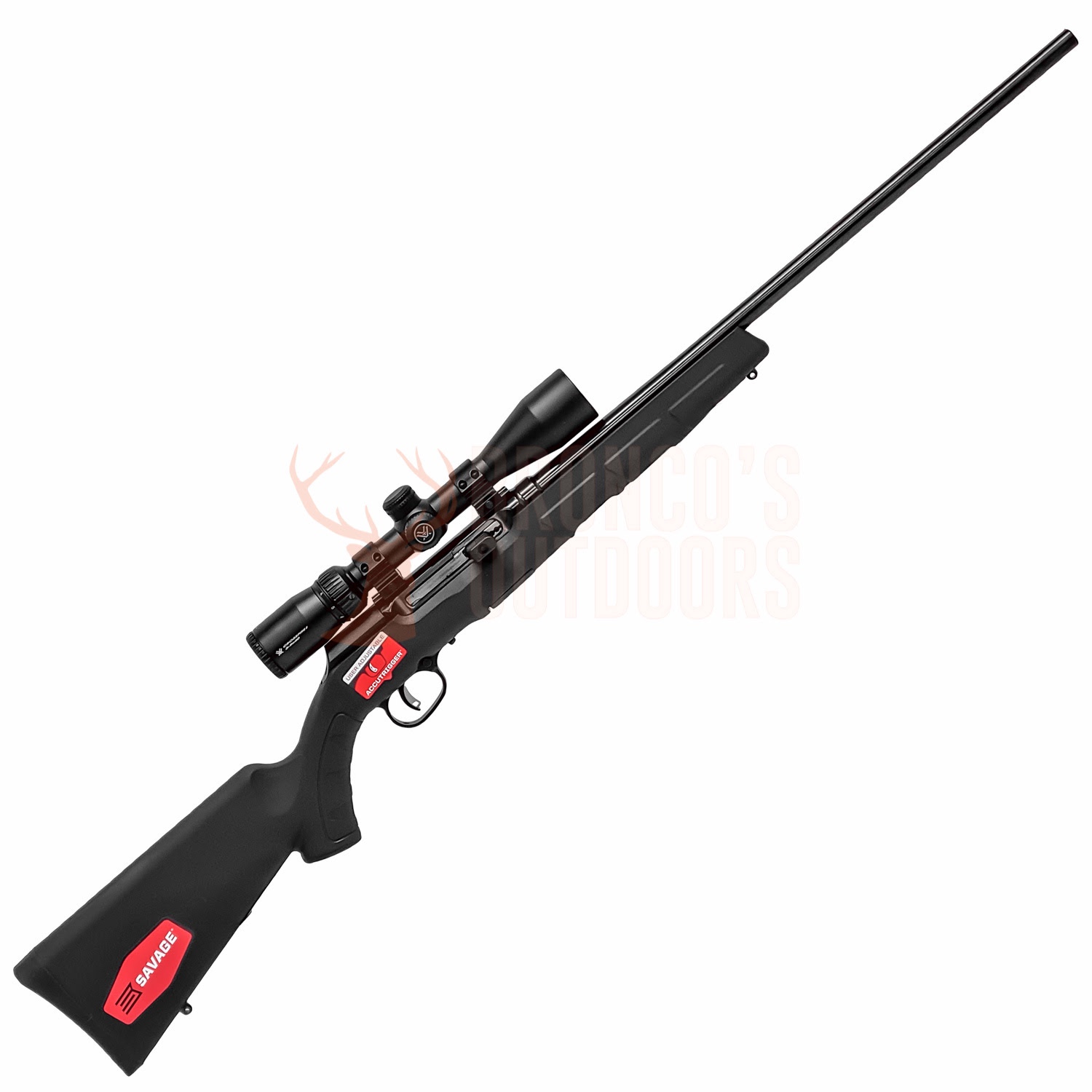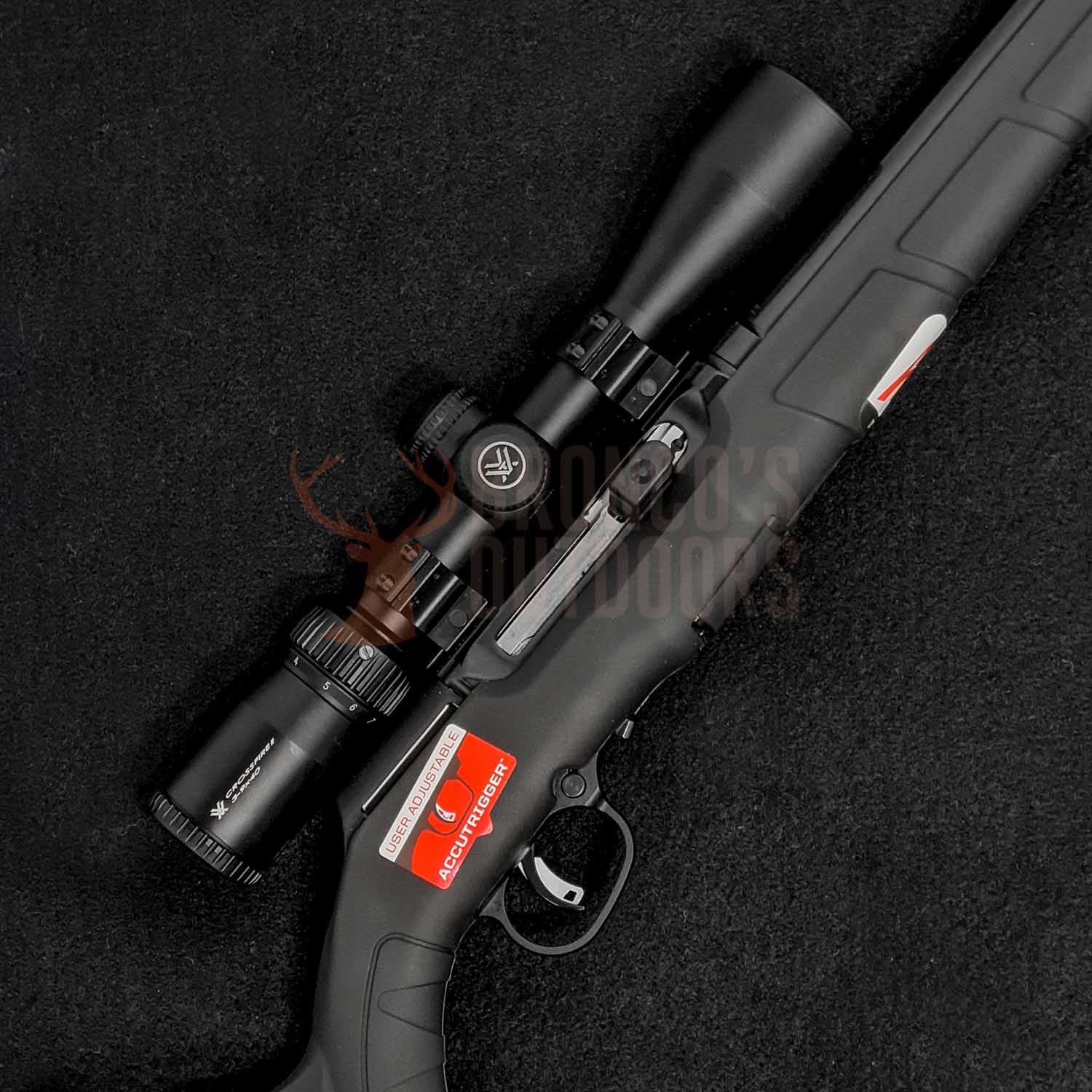 This Combo includes:
Savage A17 RRP $999
Basic Weaver Rings RRP $39.99
Vortex Crossfire II 3-9x40 BDC RRP $339
A TOTAL OF $1377.99 ALL FOR $1349!

About the scope:
High performance meets economical. Clear, tough, and bright, our popular Crossfire II line is built to exceed the performance standards of similarly priced riflescopes. Long eye relief, a fast-focus eyepiece, fully multi-coated lenses, and resettable MOA turrets are hallmarks of the series.

Included in the Box
- Removable lens covers
- Lens cloth

Specifications
Magnification 3-9x
Objective Lens Diameter 40 mm
Eye Relief 3.8 inches
Field of View 34.1-12.6 ft/100 yds
Tube Size 1 inch
Turret Style Capped
Adjustment Graduation 1/4 MOA
Travel Per Rotation 15 MOA
Max Elevation Adjustment 60 MOA
Max Windage Adjustment 60 MOA
Parallax Setting 100 yards
Length 12 inches
Weight 15 oz

FEATURES
- Fully Multi-Coated Proprietary coatings increase light transmission with multiple anti-reflective coatings on all air-to-glass surfaces.
- Second Focal Plane Reticle Scale of reticle maintains the same ideally-sized appearance. Listed reticle subtensions used for estimating range, holdover and wind drift correction are accurate at the highest magnification.
- Tube Size 1 inch diameter tube offers a versatile blend of adjustment, size and weight for a wide variety of shooting applications.
- Single-Piece Tube Maximizes alignment for improved accuracy and optimum visual performance, as well as ensures strength and waterproofness.
- Aircraft-Grade Aluminum Constructed from a solid block of aircraft-grade aluminum for strength and rigidity.
- Waterproof O-ring seals prevent moisture, dust and debris from penetrating the binocular for reliable performance in all environments.
- Fogproof Nitrogen gas purging prevents internal fogging over a wide range of temperatures.
- Shockproof Rugged construction withstands recoil and impact.
- Hard Anodized Finish Highly durable hard-coat anodization provides a low-glare matte surface and helps camouflage the shooter's position.
- Capped Reset Turrets Allow quick re-indexing of the turret (no tool needed) to zero after sighting in the riflescope. Caps provide external protection for turret.

About the rifle
Combine the power of the 22 WMR cartridge with the speed of Savage's exclusive delayed blowback semi-automatic action. The A22 Magnum offers a 10-round rotary magazine and the game-changing AccuTrigger™, which allows a crisp, clean, adjustable trigger pull. Its thread-in headspace system is identical to the one we use to build our centerfire rifles, further increasing reliability and accuracy.

Features:
• Delayed-blowback semi-automatic action
• 10-round rotary magazine
• User-adjustable AccuTrigger
• Thread-in headspace system

Specifications:
• Cailbre: .22
• Cartridge: .22 WMR
• Action: Semi-automatic
• Barrel Colour: Black
• Barrel Finish: High Luster
• Barrel Length: 22" / 55.9cm
• Barrel Material: Carbon Steel
• Rate of Twist: 1 in 16
• Magazine Type: Rotary
• Magazine Capacity: 10 rounds
• Length of Pull: 13.5" / 34.3cm
• Overall Length: 41.5" / 105.4cm
• Receiver Colour: Black
• Receiver Finish: High Luster
• Receiver Material: Carbon Steel
• Stock Colour: Black
• Stock Finish: Matte
• Stock Material: Synthetic
• Stock Type: Sporter
• Weight: 5.63lb / 2.55kg.